Calderdale Continuum of Need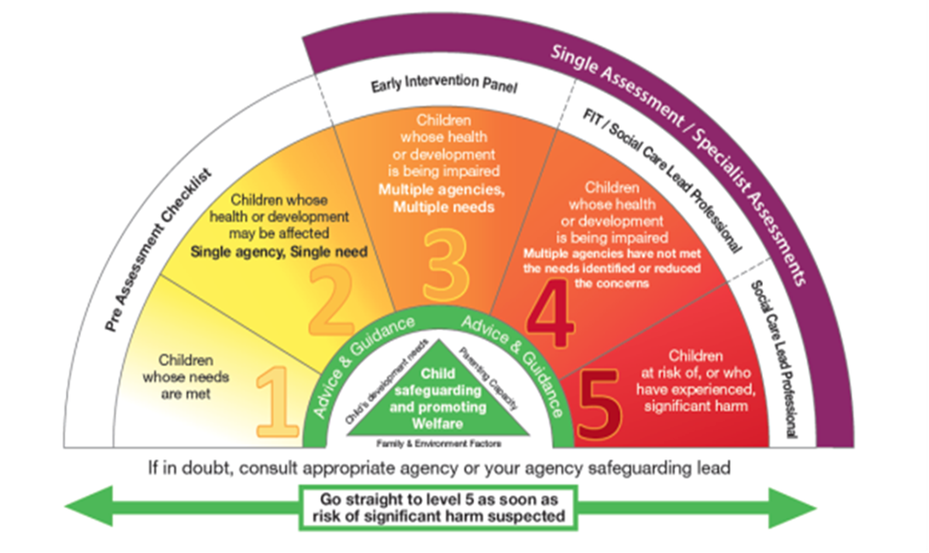 When assessing the needs of our children and families, we refer to the Calderdale Continuum of Need as highlighted above. We aim for all of our children and families to be placed at either Level 1 or 2 on the Continuum. However in the event that circumstances result in children and families being considered to be at Level 3 or above, appropriate support and/or intervention is offered to address this.
Level 3
At Level 3 families, school or multi-agency professionals can request an Early Intervention Single Assessment (EISA) which involves the family and a range of professionals working together to identify the needs of the child and family, creating and following an EISA Plan to address these needs. The EISA is then reviewed by all agencies involved every 6-8 weeks through Team Around The Child (TAC) meetings.
Level 4
At Level 4 children and families are supported through a Child in Need Plan which is led by either a Social Worker or Family Intervention (FIT) Worker.
Level 5
At Level 5 the child and family are supported by a Child Protection Plan as professionals have identified that there is a risk of harm under one or more of the 4 categories of abuse. Child Protection Plans are led by a Social Worker with Core Group Meetings being held every 4-6 weeks for the child, family and professionals to attend to support the successful completion of the plan. Child Protection Conferences led by an Independent Reviewing Officer (IRO), are then held to monitor that the Child Protection Plan is impacting on improving the circumstances.
In addition Children who are Looked After (CLA) are also placed at Level 5 on the Continuum. The Virtual School act as lead professional for a PEP (Personal Education Plan) and a Social Worker leads Looked After Child (LAC) meetings to ensure the health and social care needs of the child are being met.