Roots Curriculum
This curriculum recognises that children and young people with Profound and Multiple Learning Difficulties have unique abilities and ways of learning. Our Roots Curriculum is based on the understanding of what the individual pupil needs. Comfort, security, stimulation and motivation have to be accounted for in any situation. Having a good relationship with staff members is paramount to the students' learning experience. Through interaction pupils can learn to trust the adults and the adults can learn about the pupils' abilities, interests and preferred communication approaches, their feelings and their discomfort. (Bridge School, 2013)
Timetable
The timetable for this curriculum will be delivered containing the following areas of learning:
My Communication & Cognition

My Physical Development

My Topic

My Independence

Keeping Safe
Assessment
We recognise that children working at this level show lateral progress which is essential for their development; this is essential progress but can't always be measured numerically. Assessment of this curriculum will be through:
Narrative assessment –

Observations, photographs and video will capture the progress and experiences of children working at this level. These will be displayed in evidence books.

Kingsmill –

Using targets set at the Annual Review (APT's) these will be evaluated using the Kingsmill system.

PIVATS Assessment -

PIVATs assessments will be completed once a year to show progress, and to inform the placement of children and to establish the curriculum they will follow.
Monitoring
A Kingsmill assessment of each child's APT Targets will be completed every term. This will be converted to show percentage progress for each child.

Work scrutiny of Evidence books twice a year.

PIVATS assessments to show progress through CASPA.
Supporting Resources
B-Squared

Roots for Learning

Barrs Court

Equals Semi-Formal Schemes of Work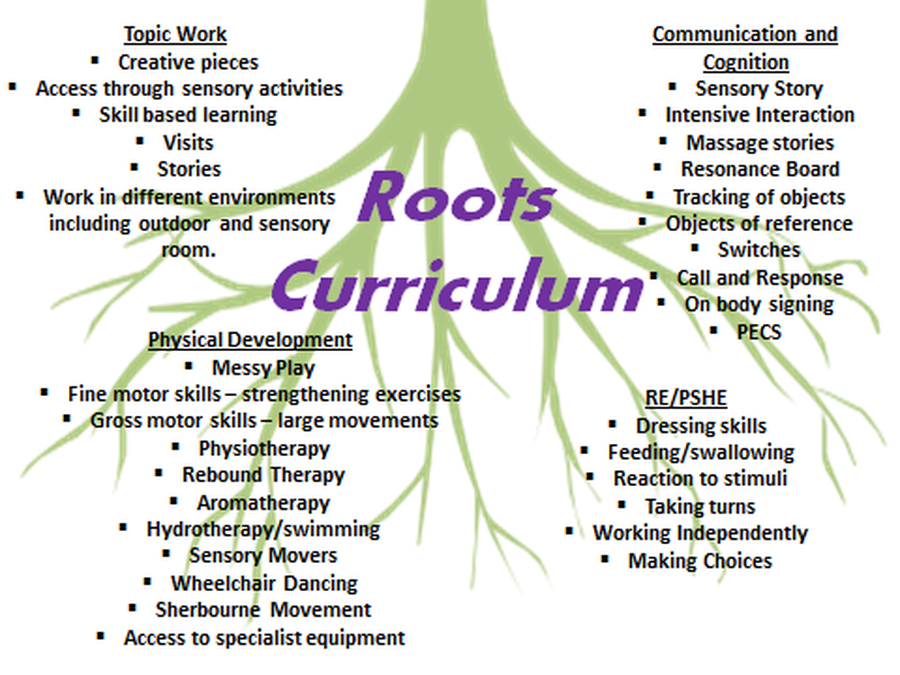 This topic web shows examples of activities that take place within our Roots Curriculum.